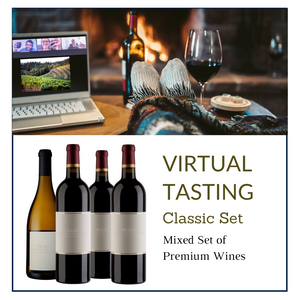 Enjoy four bottles of wine in this guided tasting experience. A Certified Wine Professional will guide you through the basics of wine tasting, food pairing and offer tips on how to navigate a retail store, online sites and wine lists at restaurants. 
Group Size Recommendation: 8 (offers 3 ounces per wine)
Tasting Menus sent via email. 
Tasting Set Includes 1 (one) Bottle Each:
(1) One White Wine
(3) Three Red Wines
*Fully customizeable, wines will range from $35-75/bottle
*Schedule your tasting experience by contacting our team. Multiple wine sets recommended for groups larger than 8 or in different locations. Wines are subject to availability.

*wines in image are different than wines in the shipment and serve as display purposes only.