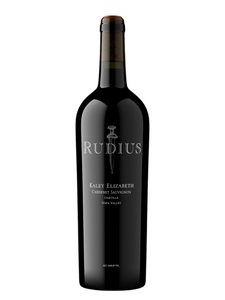 Winemaker is Jeff Ames (he's worked with Lynn Penner-Ash and Thomas Rivers Brown and currently is the winemaker for Tor).  This is his personal label… Kaley Elizabeth is named for his daughter
Rudius is the name of the wooden sword that was presented to a gladiator when he was freed by the emperor of Rome. It symbolized the gladiator was done fighting and now a free man.
96+ points from the Wine Advocate
Perched just above Silverado Trail in Oakville's sun-soaked eastern hills, the vineyard that produces our Kaley Elizabeth Cabernet is truly one of a kind. Planted in 1988 on terraces cut into the brick-red clay soils indicative of this sub-appellation, the vines here have been painstakingly maintained over the last nearly three decades. Few Cabernet vineyards in the Napa Valley have such an abiding sense of history and commitment to quality. Clone 7 — a favorite of farmers in the 80s and 90s — delivers consistently rich, bold fruit from year-to-year, while the incredibly well-drained, fractured soil of the terraces adds just the right amount of stress over the growing season. The result: a wine that is both plush and complex, every bit a modern Napa Cabernet, with bold dark elements that harken back to the days of old California.