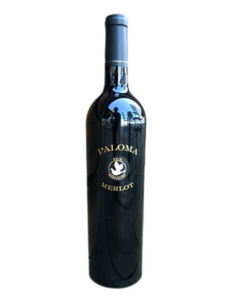 Why We Love This Wine:
Located five miles northwest of St. Helena, Paloma is a small estate compared to other big names of Spring Mountain District. Perched atop a ridge between Bald Mountain to the south and Diamond Mountain to the north, the vineyard is off-the-beaten-track so to speak.
The topography of this area has its own weather patterns. It's the coolest, wettest place in the Napa Valley. Springs appear everywhere after a good rain, hence the area's name. The combination of the summer heat and low pressure from the cool coastal air lengthens the growing season into late fall. The prolonged hang time – several weeks longer than warmer Napa Valley floor – add resonance and concentration to the resulting small clusters.
Sommelier Tasting Notes:
The 2016 is a blend of Merlot (85%) with a small amount of Cabernet Sauvignon (15%). It is fermented in French oak—33% new—for 18 months before being bottled in the spring, then bottle-aged for an additional 30 months before release.
Complex aromas of black berry fruits, black stone fruits, chocolate, tobacco, spice and floral notes with a mineral overtone. On the palate the wine has a big silky mouth feel, well balanced, with flavors of berries, fruit, cocoa, cassis, and spice, and a long spicy finish.
Producer: Paloma Vineyard
Region: Napa Valley, California
Grape Varietals: Merlot, Cabernet Sauvignon