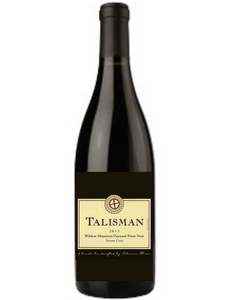 Notes from the Winery
Talisman is focused completely (obsessed?) on Pinot Noir; very small lots of single vineyard Pinot Noirs. Lovingly crafted expressions of different vineyards mostly in Sonoma County; one in Napa County and one in Mendocino county. We partner with our growers, a much more personal relationship than just "buying grapes". We have specific blocks (or rows) that we source from, work together on, make farming and picking decisions together, and craft exquisite wines from their grapes. We vinify and age our Pinots virtually identically to showcase the vineyard site; elevation, soil type, age of vines, weather that year, etc. It's a fascinating comparison of Pinot personalities. We also craft our Pinots to age; 25-30% whole cluster, native (ambient, feral) yeast, a 10 days to 2 weeks post-fermentation maceration, barrel aging of 18-22 months in about half new French oak (5 different coopers for added layers of complexity), and a good 1-2 years in bottle; the wines benefit greatly from time in the bottle. We strive for balance; tannin, structure, acid, body, flesh, aromatics, finish…. The wine has to have enough "stuffing" to stand up to the levels of tannin and barrel age we give them.

 

Our first vintage was 1993; 203 cases crafted from Madonna Vineyard in Carneros. We made one wine until 1999 when Merry Edwards approached us to make wine from "this fabulous Russian River vineyard" (Klopp Ranch) as her program did not need all the fruit for several years, so we did, which we called "Ted's Vineyard" for 6 years. In 2001 we started working with Thorn Ridge on the Sonoma Coast. In early 2003 Steve MacRostie approached us and said "I want one other winery to make a Pinot from Wildcat Mountain and I want it to be YOU for two reasons; first, you make incredible wines, and second I know you will put my vineyard name on your label and help me market it! 😊 And the story goes on from there; we add a new, incredible vineyard every few years and have slowly grown to 17 wines from 12 wonderful Pinot Noir vineyards. We originally made the wine at Scott's full time winemaking job winery, then opened our own production space in 2007. Now we have several custom crush clients and are up to about 3500 cases of Talisman, still all Pinot! We've added a Rose and just released our first ever Talisman white wine; a Pinot Blanc from Dutton Ranch.