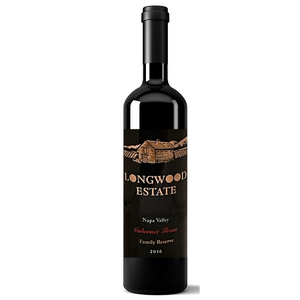 79% Cabernet Franc, 15% Cabernet Sauvignon, 5% Petit Verdot, 1% Malbec | 525 cases produced.
Vineyard - Monticello Road, Napa Valley.  Organically farmed
From the famed Beaucanon Family with a reputation of producing 90+ points!
Tasting Notes:
Longwood Estate Cabernet Franc offers rich notion of blackberry and blueberry stone fruit dominating with savory new oak and the darker elements of earth and cocoa showing around the edge.  The tannins are very smooth and elegant but with a long length of structure.  This wine is made to be aged well up to a decade or more.  The tannins are well present.  This is a true Bordeaux style Cabernet Franc; well balanced with finesse and elegance.  Pairs very well with steaks, porks and cheeses.  A votre santé!