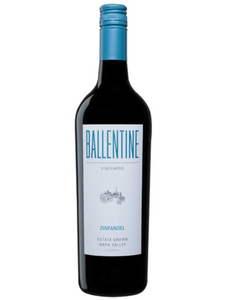 Why We Love This Wine:
Ballentine Vineyards has been dedicated to farming their land sustainably for over 100 years. Their family's focus is on producing the highest quality grapes and wines from their vineyards and sustaining our Napa Valley traditions for generations to come. They strive to make intelligent choices that maximize quality while minimizing their impact on the land. With the building of our winery, the family has had a dedication to the preservation of their farming traditions. The winery was designed to collect the rainwater from our rooftop and be used for both frost protection and irrigation, solar-powered winery for over a decade, and added a treatment plan that allows them to recycle every drop of water used in the winery and place it back into the field to irrigate their vineyard.
Sommelier Tasting Notes:
The winery looks for flavors of blueberry and raspberry syrup in the Zinfandel grapes to indicate ripeness. When squeezed the berries leave the fingers sticky from all of the sugar. Picking at this ripeness they feel this brings out the blue fruits and floral notes in this wine and leads to great balance overall. They leave 15% whole berry in our fermentations and ferment the wine using a special selection of yeast aiming at gentle extraction of tannin while maximizing our fruit concentration and color intensity. This vintage was pressed off at dryness and barrel aged for 17 months. The wine is a blend of two Zinfandel clones and is meant to show purity of fruit.
Red apples with cherry and raspberry flavors create a vibrancy on the palate that makes this wine fruit-forward. Figs, toasted nuts, holiday spices, and mocha come forth on the finish. This is a medium-bodied red, that can be enjoyed now or rested for a few years.