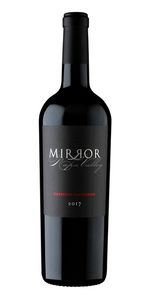 100% Cabernet Sauvignon  | 364 cases produced
Vineyard - Skellenger Vineyard, Oakville
Winemaker - Kirk Venge
Owner's Background: Rick Mirer is a former American football quarterback in the NFL after a successful collegiate career at the University of Notre Dame. Rick was drafted by the Seattle Seahawks with the second pick in the 1993 NFL Draft. He went on to play for the Chicago Bears, Green Bay Packers, New York Jets, San Francisco 49ers, Oakland Raiders and Detroit Lions. It was during his time in the Bay Area from 2000 to 2003 that he fell in love with Napa Valley. After his retirement from football in 2004, Rick went out to find the best vineyards and winemaking team he could find to make his dream of starting Mirror Napa Valley a reality. He is now working with some of the most interesting sites in the valley, with some of the most talented people in the industry – Oscar Renteria and Kirk Venge.
Winemaker's Notes: Hand harvested at peak ripeness of small concentrated clusters, from middle-aged vines rooted in the red dirt of clay loam soils on a gentle slope between the rising foothills and the valley floor. Traditional fermentation with 22 days on the skins, followed by native malolactic fermentation over the first 6 months, stirred in barrel, with a total of 29 months aging in 70% new French oak.

Tasting Notes: Dark fruit, brooding with black olive, toasted oak, and black licorice. A touch of violet opens to an energetic lift on the mid palate – stewed cherries and roasted capsicum – with tapering tannins and great acid structure. A meal eater's wine, sure to pair perfectly with almost any braised short rib or grilled tri-tip that's worth setting a fine table and inviting friends.