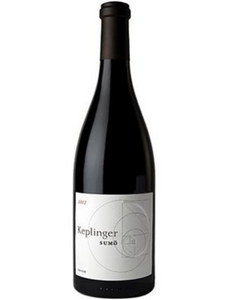 83% Petite Sirah, 11% Syrah, and 6% Viognier | 300 cases produced
Tasting notes: Sumo is a Cote Rotie twist on Petite Sirah - Petite Sirah co-fermented with Viognier and blended with a small amount of Syrah. The 2019 Sumo is a blend of 83% Petite Sirah, 11% Syrah, and 6% Viognier, all from Shake Ridge Vineyard. It has a "deep, dark nose of brambly blackberry, blueberry jam, black licorice, black cherry stones, violets, cassis bud, cedar, and a hint of white pepper. The palate has a silky entry with seamless, velvet-textured tannins throughout to the finish, subtly framing the blue and black fruit, asphalt, cherry blossom, dried herb and spice flavors on the palate." 300 cases were produced. 
This 2019 is delicious, rich, and just the perfect pairing with food or on its own. Helen Keplinger has been making great wine from her days at Paradigm, Kenzo, Bryant Estate and Grace Family Vineyard. But it is her own wines, Keplinger, that we think are expressive and of the highest quality at prices that over deliver.